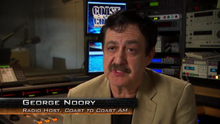 "The ancient people of our time on this planet truly saw strange things.  They witnessed bizarre events.  But those stories, other than in depictions, some artwork and things like that… they're gone.  For some reason, they're just gone.  But  left behind are incredible things that we have that make you wonder how in the heck were these things built.  Those are great mysteries.  And I think one of the things that keeps people just continuing to push for the answers are the fact that these things are so out there that they can't figure it out."
Known For
Edit
Radio Host, Coast to Coast AM
Background
Edit
Born as George Ralph Noory on June 4, 1950 in Detroit, Michigan, USA.
Nicknamed "The Nighthawk"
George Noory hosts the nationally syndicated program Coast to Coast AM, heard by millions of listeners on more than 600 stations in North America, is the #1 most listened to radio show in the overnight time period, according to Arbitron.
While hosting The Nighthawk, a wildly successful, late-night program on KTRS in St. Louis, George Noory was recruited by Premiere Networks to guest host on Coast to Coast AM with Art Bell. On January 1, 2003, George Noory became the permanent host of the phenomenally successful overnight program, following the retirement of Art Bell. Under Noory's hosting, the show grew significantly.
Noory captivates program listeners with his discussions including paranormal phenomena, time travel, alien abductions, religion, spirituality, conspiracies and all things curious and unexplained. He is driven, he has said, by the desire to solve the great mysteries of our time. From his first days as a radio broadcaster he says, "I've wanted to cover stories that the mainstream media never touch--the unusual, the paranormal and things like that. I learned that broadcast is the best business for exploring these issues, and I've been doing it for years."
He dates his interest in these matters to a book by Walter Sullivan, We Are Not Alone, that his mother gave him when he was 13. He was hooked.
Prior to his late-night show on KTRS, Noory had an extensive broadcast career. He started in radio at WCAR-AM in Detroit, where his first-ever interview was with nuclear physicist and UFO expert Stanton Friedman. From 1974-1978, he served as news producer and executive news producer at WJBK-TV. At age 28, he became the youngest major market news director in the country at KMSP-TV in Minneapolis. Noory was also the director of news planning and development at KSTP-TV in Minneapolis, was news director at KSDK-TV in St. Louis and the recipient of three Emmy Awards while a news executive.
Noory released his first book in 2006. Worker In The Light: Unlock Your Five Senses And Liberate Your Limitless Potential, co-written by best-selling author William J. Birnes, is Noory's revolutionary guide to spiritual enlightenment, human empowerment, ultimate productivity and absolute happiness. Noory and Birnes co-authored a follow-up in 2009 entitled Journey to the Light, in which they present amazing first-hand accounts of how ordinary people changed their own lives, transcended their doubts and fears, and unlocked the secrets to their spiritual growth. In October 2011, Noory released his third book, Talking To The Dead. Co-written by Rosemary Ellen Guiley, a leading expert on the paranormal and supernatural, the book explores the colorful history and personalities behind spirit communications, weaving together spirituality, metaphysics, science and technology. Noory, along with Richard Belzer and David Wayne, released Someone is Hiding Something: What Happened to Malaysia Airlines Flight 370? in February 2015. Scrutinizing the theories the media and politicians claim are the "most likely" reasons the plane crashed, they argue that if a year after a huge Boeing 777 has gone missing, and there's still no sign of it whatsoever, it's time to think outside the box.
In July, 2016, Noory released Night Talk, a fictional story about a late-night talk-show host who is fascinated by the paranormal and becomes entangled in a deadly conspiracy. His latest work, Mad As Hell, is set for release in June 2017 and discusses the problems facing our country, why Noory is mad about it, and how we could bring about positive change.
In December 2012, GAIAM TV launched Beyond Belief with George Noory, a new TV show exploring the unknown and mysteries of the universe. The one-hour, weekly series features Noory's informative, investigative and dynamic conversations, as well as some of his favorite guests from the radio program. Taped in front of a live audience at GAIAM studios in Boulder, Colo., Beyond Belief with George Noory is available exclusively on http://www.beyondbelief.com/.
When he's not busy hosting his radio show or writing his next book, Noory travels the U.S., meeting with fans at events like Contact in the Desert and the Conscious Life Expo, or his live George Noory & Friends stage shows. Last summer, he launched ParanormalDate.com for people who enjoy the subject matter covered on Coast to Coast AM. A companion site, ConspiracyDate.com, was also recently launched. Both apps are available for free on IOS and Android devices. For more information, please visit www.coasttocoastam.com.
Noory was born, raised and educated in Detroit. He has three children and six grandchildren. He served nine years in the U.S. Naval Reserve. Coast to Coast AM is the most listened to overnight radio program in the USA and is broadcast live, Monday-Sunday from 1-5 a.m. ET.
Appearances
Edit